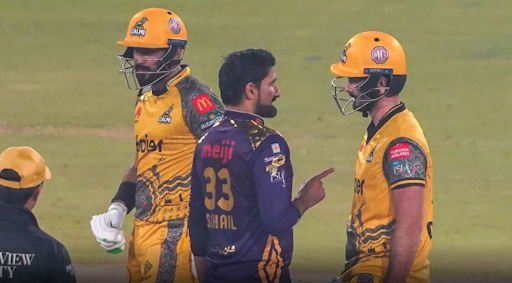 Sohail Tanvir and Ben Cutting were each fined 15% of their match fees
Sohail Tanvir and Ben Cutting were each fined 15% of their match fees
After reigniting a long-running feud, Sohail Tanvir and Ben Cutting were each fined 15% of their match fees. The incident happened during a Pakistan Super League match between Peshawar Zalmi and Quetta Gladiators in Lahore on Tuesday, which the former - Cutting's team - won.

Cutting hit Tanvir for 27 runs in the 19th over of Zalmi's innings, including four sixes in the first five balls. Cutting extended both middle fingers at Tanvir after the third consecutive six. When the umpires intervened after the fourth six, the two had an altercation in the middle.

Cutting slashed Naseem Shah into Tanvir's hands at short third man off the first ball of the next over, the 20th. Tanvir returned the gesture by raising both of his middle fingers in a salute.

The two had a history, which Tanvir commented on later in a social media apology. Cutting smashed Tanvir for six in the CPL in 2018, before being bowled off the next ball. Tanvir then sent Cutting flying with both of his middle fingers extended. Both players were found guilty of violating Article 2.6 of the PSL code of conduct, which prohibits them from using any obscene, abusive, or disparaging gesture during a PSL match.

Tanvir and Cutting both admitted their wrongdoing and agreed to the penalties set by match referee Ali Naqvi.

Tanvir expressed on Instagram, "I went and apologised to him [Cutting] during breakfast the next morning." He said that it wasn't a decent gesture in the least, and it should have been avoided.

Match referee Ali Naqvi stated that in this magnificent sport, such rude gestures have no place. As role models, the athletes must always grasp and remember their on- and off-field obligations. He commented that this sort of conduct sends the incorrect signal to the next generation of cricketers. He added that the HBL PSL 2022 is being played in a pleasant, upbeat atmosphere, and he would like to see the players continue to compete hard on the field of play while remaining true to the spirit of the sport.