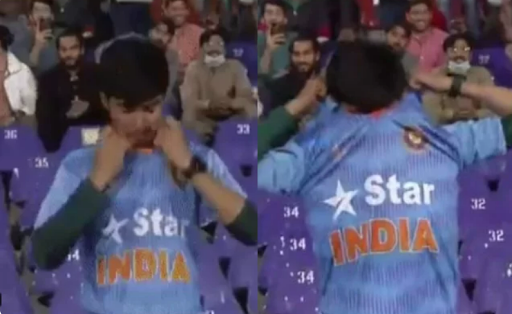 Super-fan wore multiple team jerseys became famous overnight
Super-fan wore multiple team jerseys became famous overnight
During the PSL 2022's eighth match between the Multan Sultans and Islamabad United, a fan in the audience was seen wearing many jerseys of prominent cricketing nations at the same time. Despite the absence of some key players, PSL 2022 has been nothing short of entertaining so far. One of the factors for the match's popularity in Pakistan is that its supporters continue to support and adore the sport.

Michael Vaughan has commended the Pakistan Super League for maintaining a high standard of cricket, naming it the world's second-best league after the IPL. Vaughan is famous for trolling Indian cricket fans on Twitter, but this appears to be genuine praise for the franchise T20 league in Pakistan from the former Ashes-winning England captain. Many PSL players have secured contracts in the IPL, and the board has been working hard to ensure that the international fixtures return to their homeland as well.

During Tuesday's game, a fan was observed wearing two distinct jerseys, one on top of the other, in the midst of all the drama. The fan began with an England jersey, then went on to display his Australia, New Zealand, West Indies, South Africa, India, and Pakistan jerseys before concluding with a Pakistan jersey. Even the pundits were taken aback by the fan's actions and saw the lighter side of it when he was named 'fan of the match.' Moreover, the Multan Sultans continued their unblemished record in PSL 2022 with a win over Islamabad United yesterday, with the batsmen putting on a show in a high-scoring battle.

The Multan Sultans scored 217 runs thanks to Tim David's 71 off 29 balls and Riley Rossouw's unbeaten 67, while the Islamabad United were defeated by 20 runs. Shadab Khan sparked the Islamabad side with a 42-ball 91 that included nine sixes on his way to a near-miracle triumph. Multan Sultans are still on top of the table, having won four games in a row.