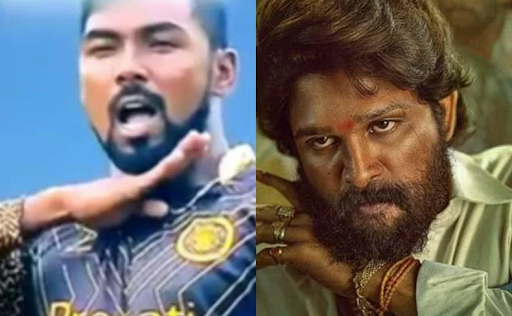 BPL: Bangladesh bowler takes Allu Arjun's Pushpa famous action on cricket field.
BPL: Bangladesh bowler takes Allu Arjun's Pushpa famous action on cricket field.
Pushpa: The Rise, starring Allu Arjun, has become a trend-setter as well as an instant sensation. On Instagram, Australian opener David Warner has been seen imitating the Tollywood star on multiple times, and renowned all-rounder Ravindra Jadeja was recently seen attempting to perfect his Pushpa act.

While many famous cricketers have become super fans of the film, Nazmul Islam Apu, a Bangladeshi cricketer, tried his hand at mastering the technique and, for once, did not perform the Pushpa dance on social media, instead celebrating on the cricket pitch.

The bowler tempted the batsman to take him to the cleaners during a game between Fortune Barishal and Sylhet Sunrisers in the current Bangladesh Premier League (BPL), and the batter succeeded in timing the ball brilliantly. The fielder, on the other hand, displayed outstanding mental foresight and made a spectacular running catch at deep extra cover.

The bowler appeared to be enjoying the dismissal in classic Allu Arjun style after his strategy to fool the batter worked. The event was held to commemorate the release of the Tollywood superstar's latest film, Pushpa.

According to reports, the Telugu action-drama film was released on December 17, 2021. It has grossed almost INR 350 crores at the box office. This has made it the highest-grossing Indian film of the year and one of the highest-grossing Telugu films of all time.

According to its writer and director Sukumar, Pushpa: The Rise will be followed by 'Pushpa 2: The Rule,' which will be released in December 2022. According to reports, principal photography on the picture is set to begin in February 2022, and filming will begin two months later, in April. The sequel will pick up where the precursor left off in terms of plot.

What's remarkable about Pushpa's commercial success is that it had a fantastic run despite clashing with Spider-Man: No Way Home when it was released last month, and it's still breaking box office records over a month later.