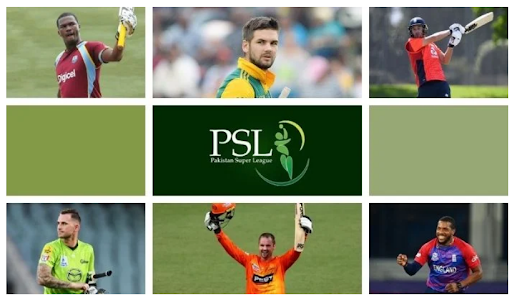 Overseas players looking forward to the upcoming Pakistan Super League
Overseas players looking forward to the upcoming Pakistan Super League
Cricket fans are anticipating the start of the 7th edition of the Pakistan Super League (PSL), which will begin on January 27.

Foreign players competing in the tournament are "excited at the prospects," according to the Pakistan Cricket Board (PCB).

The league has proven itself as an important venue for international cricketers to ply their trade since its beginning in 2016, according to a statement released by the PCB.

Since the league's return to Pakistan in 2020, the foreign contingent of cricketers has talked openly of their enthusiasm for the country's young talent, and they have really embraced Pakistani culture.

The PCB also stated that the upcoming PSL 7 will kick off on Thursday at the National Stadium. The first 14 games will be taking place in Karachi and the final 19 in Lahore. They will provide all foreign cricketers with yet another chance to sample Pakistani cuisine, music, and other aspects of culture.

Take a peek at what some international players had to say about it:

Johnson Charles
Charles from the West Indies stated that he is very delighted to be travelling to Pakistan. He said that it will be my second visit to Pakistan, and I am excited to sample the cuisine and learn more about the culture. He is ecstatic to have been given another chance to represent Multan Sultans, and I'm looking forward to doing amazing things for his team.

Alex Hales
English cricketer Alex Hales described the PSL as a "really high-quality league". He said that the standard of local players, especially bowlers, is exceptionally high, and it makes the tournament very challenging. This competition is much more interesting because you don't know which four will advance until the very last game.

Hales added that he is excited to be back with Islamabad United this season. In the fourth edition of the Pakistan Super League, he made his debut with Islamabad United.

Rilee Rossouw
South African cricketer Rilee Rossouw commented that he has fond memories of his time in the PSL. He said that every season, he has had fantastic teammates, and probably this year will be no exception. PSL is one of the most competitive events and he holds it very close to his heart.

He added that it's a unique opportunity to defend the trophy while sharing a changing room with his teammates. It's a challenge he is looking forward to, they have a terrific group of cricketers, led by an excellent captain.

Chris Jordan
The PSL, according to English cricketer Chris Jordan, is one of the most intense leagues in the world, and it's always a joy to be a part of it.

Jordan stated that he is thrilled to be rejoining the Karachi Kings; it is a fantastic group of people, and the last time they were all together, they won it all. He added that he is looking forward to putting on another strong performance and contributing to the team's return to the top.

Colin Munro
The South African-born New Zealand international cricketer, said the fans in PSL are among the most knowledgeable and enthusiastic in cricket. He enjoys playing in Pakistani conditions because the pitches are terrific, the atmosphere is fantastic, and the hospitality is unbeatable.

He added that he is very happy to be a part of Islamabad United. The team is actually formed like a family, and the changing room is one of the greatest he has ever seen. He further commented that Shadab Khan is a fantastic captain to play under, and they have a fantastic mix of overseas players and young Pakistani talents.

Lewis Gregory
English cricketer Lewis Gregory said he always appreciated taking part in the PSL as he gets to see some genuine talent on display. He is excited to become a part of the Karachi Kings family, getting to know the team, and playing the entire season.