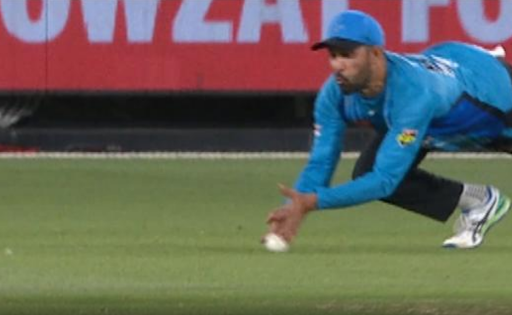 BBL: Sydney Thunder and fans outraged over umpire's decision
BBL: Sydney Thunder and fans outraged over umpire's decision
With the soft signal controversy raising its ugly head in the BBL knockout final, Usman Khawaja was upset to be ruled out after Fawad Ahmed delivered a contentious catch.

Khawaja was removed by Ahmed's controversial catch, which was referred to the third umpire with a soft indication of out, which did not impress Michael Vaughan.

After the ball hit Ahmed's fingers, it appeared to hit the grass, but the third umpire judged a safe catch and upheld the on-field ruling.

Vaughan commented that he is not sure that Ahmed got that much of his hand underneath the ball and the grass wouldn't help with the catch.

When asked about the sideline catch, Khawaja stated he didn't think it was out without challenging Ahmed's honesty, and he agreed with Vaughan that the soft signal damaged him. Khawaja said that he didn't reckon he was out. He commented soft signals were never his favourites and it's difficult to overturn when it's given out on the field. He remarked that he told the umpires that he couldn't believe not a single blade of grass touched the ball since that was all it takes. He said that he will respect the verdict but he disagrees with the outcome.

Khawaja explained that he didn't walk off because he thought the ball had hit the grass and that the umpires couldn't give him a straight response.

Vaughan believes it was a critical decision that cost the Thunder the match after they fell behind by six runs in a nail-biter.

Vaughan stated that it has been a debating point since they introduced the soft signal, whether it's right or wrong, and it went against Usman this time. He added that it was a setback for Thunder and he was never a huge supporter of the soft signal.

Fans of Khawaja took to the internet to express their disbelief and anger over the decision.

A sports writer wrote that "Thunder has been absolutely robbed here".