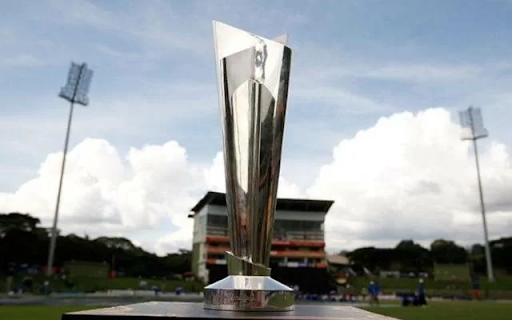 ICC announces schedule for T20 World Cup 2022
ICC announces schedule for T20 World Cup 2022
The schedule for the T20 World Cup in 2022 has been released by the International Cricket Council (ICC). The T20 tournament begins on October 16, 2022, and ends on November 13, 2022.
The competition will include 16 teams, with 12 of them qualifying for the Super 12 phases.
Group 1:
Australia, Afghanistan, England, New Zealand
Group 2:
India, South Africa, Pakistan, Bangladesh
The Super 12 stages will begin on October 22, 2022, with a blockbuster match between Australia and New Zealand. Another huge showdown is scheduled for October 23, 2022, when India will face arch-rival Pakistan.
The qualification matches will occur from October 16 to October 21, 2022, determining which four teams will join the eight other teams already qualified for the event. The Australian team won the T20 World Cup in 2021, defeating New Zealand by eight wickets.
First Round, Qualifying Matches
Date
Team
Time
Venue
Oct. 16
Sri Lanka vs Namibia
10:00
Kardinia Park, Geelong
Oct. 16
Q2 vs Q3
14:00
Kardinia Park, Geelong
Oct. 17
West Indies vs Scotland
10:00
Bellerive Oval, Hobart
Oct. 17
Q1 vs Q4
14:00
Bellerive Oval, Hobart
Oct. 18
Namibia vs Q3
10:00
Kardinia Park, Geelong
Oct. 18
Sri Lanka vs Q2
14:00
Kardinia Park, Geelong
Oct. 19
Scotland vs Q4
10:00
Bellerive Oval, Hobart
Oct. 19
West Indies vs Q1
11:00
Bellerive Oval, Hobart
Oct. 20
Sri Lanka vs Q3
10:00
Kardinia Park, Geelong
Oct. 20
Namibia vs Q2
14:00
Kardinia Park, Geelong
Oct. 21
West Indies vs Q4
10:00
Bellerive Oval, Hobart
Oct. 21
Scotland vs Q1
14:00
Bellerive Oval, Hobart
Super 12 Schedule
Group 1 Fixtures
Date
Team
Time
Venue
Oct. 22
Australia vs New Zealand
13:00
SCG, Sydney
Oct. 22
England vs Afghanistan
17:00
Perth Stadium
Oct. 23
A1 vs B2
10:00
Bellerive Oval, Hobart
Oct. 25
Australia vs A1
17:00
Perth Stadium
Oct. 26
England vs B2
10:00
MCG, Melbourne
Oct. 26
New Zealand vs Afghanistan
14:00
MCG, Melbourne
Oct. 28
Afghanistan vs B2
10:00
MCG, Melbourne
Oct. 28
England vs Australia
14:00
MCG, Melbourne
Oct. 29
New Zealand vs A1
14:00
SCG, Sydney
Oct. 31
Australia vs B2
14:00
The Gabba, Brisbane
Nov. 1
Afghanistan vs A1
10:00
The Gabba, Brisbane
Nov. 1
England vs New Zealand
14:00
The Gabba, Brisbane
Nov. 4
New Zealand vs B2
10:00
Adelaide Oval, Adelaide
Nov. 4
Australia vs Afghanistan
14:00
Adelaide Oval, Adelaide
Nov. 5
England vs A1
14:00
SCG, Sydney