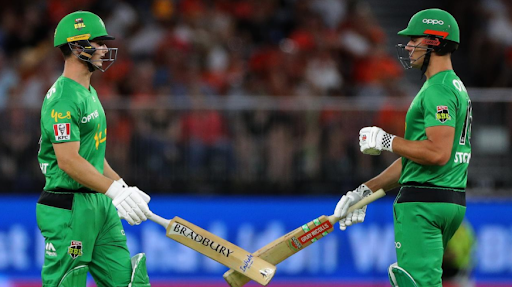 Melbourne Stars' Hilton Cartwright credits Marcus Stoinis for his success
Melbourne Stars' Hilton Cartwright credits Marcus Stoinis for his success
Hilton Cartwright, the in-form Melbourne Stars batter, praised Marcus Stoinis, Australia's T20 World Cup star, for transforming him into a middle-order batsman capable of managing any circumstance.

Cartwright blasted 79 off 44 balls in the Stars' 20-run triumph over the Brisbane Heat at the Gabba, partnering with opener Joe Clarke (85) for an all-time BBL record-breaking 151-run fourth-wicket combination.

They came back from a 3-16 deficit to lead their team to win.

Cartwright, who has 203 runs this season for the team, is finding his momentum in the middle of the lineup after initially preferring to hit higher in the order.

After his match-winning innings against the Heat, he stated how Stars partner Stoinis' global success in learning to deal with the many scenarios a batter experiences in T20 cricket influenced his own mindset.

Cartwright stated that he had always wanted to play up top but had trouble understanding how to play down the bottom. He commented that having Marcus Stoinis here, and he has got a lot of experience in the IPL and for Australia to offer. Cartwright explained that Stoinis has a lot of experience batting in the middle of the order in the late innings, and he has learned a lot from him over the last year and a half. Cartwright said that rather than detailed instructions on how to play, the focus has been on situation analysis — the psychological rather than the technical side of things.

Cartwright, who played Test and ODI cricket for Australia in 2017, said he discussed tactical plans for individual bowlers and how to play at different locations with Stars batting coach Ben Rohrer. He did say, though, that he tackled his assignment with the shackles removed. He said that his job is to come in anywhere after the tenth over, around the surge, and essentially finish the innings.

The 29-year-old cricketer commented that the truth is that it shouldn't matter whether they are 3-16 or 3-116 if they are hitting their bad balls, it is simply a matter of getting out there with confidence and putting their best foot forward. Although it doesn't always pay off, but when it does, they get outcomes like they did last night.

Cartwright has scored in the double digits in each of the previous five BBL games this season, with a high of 42.