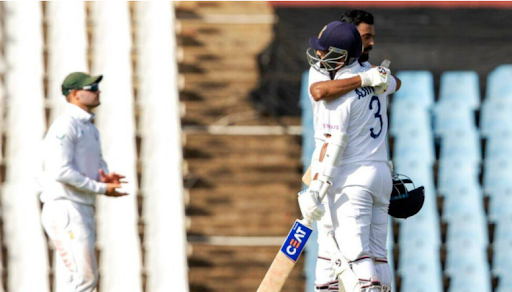 KL Rahul stabilised India's frenzies on Day 1 Test
KL Rahul stabilised India's frenzies on Day 1 Test
Indian cricket emerged from the darkness that had engulfed them for a fortnight at the SuperSport Arena. A superb first-day batsman performance, as rare as they come in South Africa, refocused attention on cricket, as it should be. The scandals and slander that had overshadowed the build-up, the negativity that had accumulated, and the uncertainties and dervishes that lingered were all dispelled in one riveting day of cricket.

It was a perfect day for any team. The openers not only made it through the first session unscathed, but also pieced together a 117-run partnership, only the third time an Indian opening duo has put on a century-stand on these treacherous grounds. India has a history of being a sluggish starter. It was the first time the openers had made it through the first session of a first Test outside Asia in 14 years. KL Rahul, unbeaten on 122, continued the good trend by demonstrating that his century in England was not a one-off but the start of a truly successful season.

Mayank Agarwal, his partner, showed that he is more than a home-track bully and can thrive in a challenging bowling environment. Ajinkya Rahane, who had been struggling, blossomed and looked to have rediscovered his finest touch with a sharp 40 not out. India finished the day with a dominant 272/3, eight runs short of their maximum score in six innings during the previous trip here.

Rahul's continued resurgence as a real high-class opening batter accounted for a large part of their dominance. Since his debut, there's been a lot to enjoy about him: his non-violent assertiveness, his willowy languidness, and his unfazed disposition. Pundits attributed his future greatness to all of his lauded characteristics. But it's his commitment, and hence a blooming maturity, that can clear his road to absurd levels, as he's shown since the series in England. He did make a few mechanical modifications before the England series, such as reducing his trigger action and keeping his hands closer to the body than before, but it's his mental grit that comes through.

He was nearly monastic in his abstinence under the threatening, dismal skies. His mind didn't wander even when South Africa's rusty bowlers miscalculated in length, as they did frequently. He slowly walked away from anything that didn't pose a threat to his stumps. He fought the want to cut and drive, as well as the urge to poke outside the off-stump. Those who strayed too close to his body were beaten back with a dead defensive bat. Kagiso Rabada needed 25 balls and an over-pitched gift to blink in the first of his 13 boundaries. He'd previously negotiated a probing period from South Africa's talisman, which included a futile review for a caught-behind off an ugly short-ball that he ducked under with effort.

Rahul was satisfied in his self-woven cage of prudence, even as South Africa's seamers gradually lost their zeal and Agarwal hooked on with a stream of boundaries to motor forward. He created his first inning entirely on the backs of wonderful loose balls, generally fullish balls, or deceptive tap-and-run singles. He ate up 126 balls in his first 47 runs. The following 43 came off 66 balls before he slowed down towards the end, soaking up 56 balls for the final 33.

He and Agarwal had a telepathic understanding, which was to be expected given that they had been colleagues since age-group cricket. There was no nasty rivalry between them, as Rahul was content to simply defend while Agarwal was more interested in striking boundaries. When they believed their partner was upset, they would have a conversation among themselves.