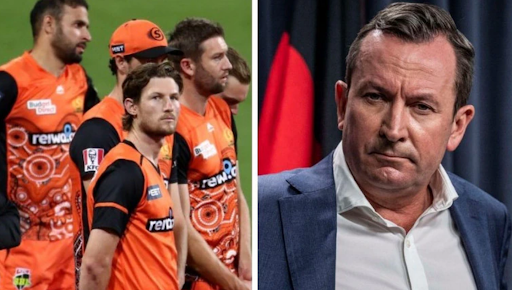 A great disappointment for the Scorchers fans
A great disappointment for the Scorchers fans
The announcement that the Perth Scorchers would be unable to play their remaining BBL|11 home games in Perth due to upcoming revisions to the state's border limitations has handed yet another devastating blow to West Australian cricket fans.

With the exception of specific government personnel, WA will refuse admission to anyone travelling from the "extreme risk" regions of NSW and Victoria from Saturday.

Thanks to the latest announcement, the Scorchers have had to reschedule their remaining home matches, beginning with the second of two games against the Hobart Hurricanes on Monday.

The match will be played at Bellerive Oval, Hobart. The Scorchers have been there since Tuesday night's victory over the Hurricanes.

After Cricket Australia announced earlier this month that the fifth Ashes Test would be moved from Perth, WACA chief executive officer Christina Matthews said she was utterly dissapointed that West Australian sport fans had missed out on another opportunity to see live cricket.

She stated that they are terribly saddened for their supporters who enjoy going to Optus Stadium to see the Scorchers playing and cheering on their side. She said that they would want nothing more than to be able to host these games at home in order to demonstrate our gratitude to their loyal fans. Unfortunately, there was no choice except to change the games.

Matthews explained that over the last few months, they have worked relentlessly to obtain as many BBL matches as possible. Nevertheless, due to border limitations and the league's inability to change fixtures, they have had to move their home matches to keep their season going. She added that the WACA owes a huge debt of gratitude to their members, admirers, and partners who stood by them in a similar scenario last year.

Matthews said that they understand the importance of home matches to them and their squad. She added that the Scorchers have begun strong, winning three of their first three games, and there is no doubt that the players will go above and beyond to conclude the season on a high note as a thank you to all of their supporters.

As a result of the announcement, the Scorchers will only play one match in Perth during the BBL|11 season, against the Brisbane Heat on December 8.

Alistair Dobson, Cricket Australia's general manager of Big Bash Leagues, expressed sympathy for Scorchers supporters. He stated that they recognize that this is a regrettable decision for the Scorchers' ardent supporters, but in the current climate, they want to give stability to members, fans, players, match officials, and staff. He added that while they would have preferred to play these games in Perth, it was just not viable under the present condition due to a variety of circumstances.