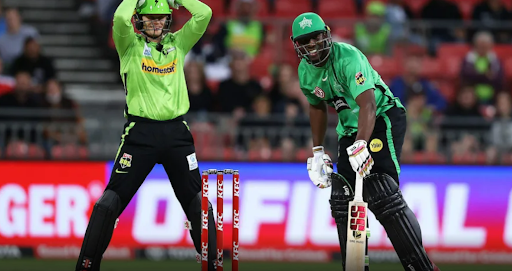 Andre Russell: Tanveer Sangha has a bright future
Andre Russell: Tanveer Sangha has a bright future
Andre Russell, the latest high-profile figure to compliment Tanveer Sangha, has said that the young spinner has a great heart and a promising future.

Russell and Sangha, a 20-year-old who only had his BBL debut a year ago but has previously represented Australia in Twenty20 cricket, faced up in an exciting match at Showground Stadium on Sunday night.

A well-placed Russell had taken advantage of the power surge. He was aiming for the boundary, with Melbourne Stars requiring 35 runs from 36 deliveries at the time.

Russell triumphed, tossing one ball over Sangha's head and into the stands as Melbourne Thunder beat Sydney Thunder by six wickets.

Sangha, who had already eliminated Marcus Stoinis and Glenn Maxwell, was cruelly deprived from Russell's scalp when he edged the ball onto his foot and the stumps, only for the bails to stay in place.

Russell said that the ball hit the stump and he is happy to be continuing playing and chuckle about it.

Sangha, who has had a solid start to the domestic season in all three formats, might be a bolter in Australia's Test team for travels to Pakistan and India next year. Russell, one of the most sought-after T20 guns on the brand circuit, was blown away and made a conscious effort to hunt down the tweaker after the game.

He said that he congratulated and told him that Sangha had a huge heart and he admires spinners who aren't scared to bowl to big hitters. Russell explained that Sangha was going fantastically and he was slamming into him and changing his pace.

Russell commented that Sangha is not scared to throw the power surge his way and he did a great job, so kudos to him. He added that Sangha simply has a great future ahead of him; he has a long path to go, and if he can accomplish this now, it's just a matter of time before he improves.

Russell's remark made Sangha very happy. He said that Russell is the finest in the sport and it's always awesome to receive feedback like that from him.

Sangha appreciated the opportunity to pit himself against one of the world's top T20 hitters. He told the media that when skipper Chris Green asked him if he wants it, he answered, definitely, of course. He added that he understands there will be a lot of stress, but all he wants to do now is to participate in the big game and have the ball.

Sangha took 4 for 21 against Victoria last month to help New South Wales to a one-day victory. Sangha had previously been taught by Victoria's coach and former Test opener Chris Rogers. The coach said that Sangha is going to have big achievements.