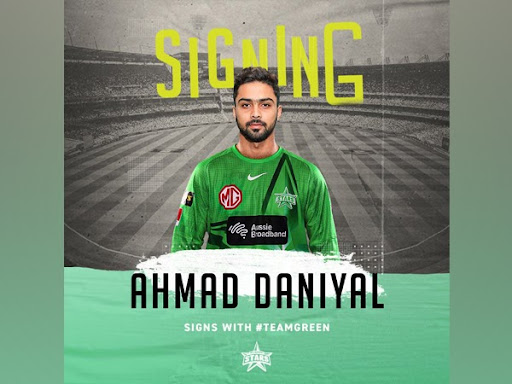 Melbourne Stars signed third international cricketer Pakistan pacer Ahmad Daniyal this season
Melbourne Stars signed third international cricketer Pakistan pacer Ahmad Daniyal this season
For the upcoming Big Bash League, the Melbourne Stars have signed Pakistan fast bowler Ahmad Daniyal (BBL). After moving through the training system at Lahore Qalanders, the right-handed pitcher came onto the spotlight at the Abu Dhabi T10 this year. After that, the 24-year-old made his debut in the Pakistan Super League.

It is recently recognised by some that the Qalanders produced many talented cricketers. There is Haris Rauf, who recently joined the Stars for BBL|11. And there is spinner Syed Faridoun, who made his Stars debut against the Sixers on Sunday night. Daniyal also made quite an impression in the Pakistan Super League, taking six wickets in ten games.

Daniyal is Melbourne Stars' third international signing this season. The other two international players are his teammate Haris Rauf and West Indies all-rounder Andre Russell. Haris will be ready from December 27th, and Russell will follow on December 10th on a five-match BBL contract.

Daniyal landed in Australia on Monday. He will meet the team after his compulsory 72-hour quarantine term is over.

Blair Crouch, the General Manager of the Melbourne Stars, was ecstatic to add another outstanding bowler to the team. He stated that the Stars have had a busy week of international acquisitions, and they are excited to welcome Ahmed Daniyal to the fold. He explained that Andre Russell, Haris Rauf, and Ahmed Daniyal committing to the club for the BBL|11 season is a huge boost for the team and all of their supporters, which they absolutely cannot wait to see back at the MCG this summer to support these world-class talents.

Marcus Stoinis is still a member of the team despite dropping the last match due to an injury. The major news, though, is that Andre Russel and Qais Ahmad will make their Stars debuts. They previously competed in the Abu Dhabi T10 League, but they have returned to the BBL. Andre Russel formerly played Sydney Thunder, while Qais previously represented Hobart Hurricanes in the BBL.