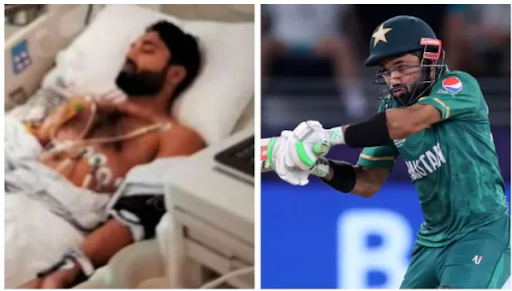 Pakistan team doctor: Rizwan's illness was kept secret to protect the team's morale
Pakistan team doctor: Rizwan's illness was kept secret to protect the team's morale
On Thursday (November 11), Pakistan was defeated by Australia by 5 wickets (6 balls left) in the second semi-final of the ICC World T20 2021. Mohammad Rizwan, the star opener, made a stunning comeback from a serious chest illness he had before the contest.

In the current ICC T20 World Cup 2021, it has once again been demonstrated that the team that chases wins, as most teams decided to bowl after winning the toss on Thursday.

Aaron Finch won the toss and elected to chase a total of 177 set by a strong Pakistani batting performance in Dubai, with Babar Azam, Mohammad Rizwan, and Fakhar Zaman scoring the majority of the Men in Green's runs.

Finch & Co., on the other hand, were victorious in a game of razor-thin margins on the day, thanks to Matthew Wade's finishing touches right up until the end of the 19th over.

When it comes to bravery with the bat, Pakistan's 'warrior' opener Rizwan's performance in this T20 World Cup can't be overlooked, as the top batsman hit his third fifty of the competition against Australia, scoring 67 from 52 deliveries faced.

Rizwan also made history by becoming the first and only cricketer to score 1000 T20I runs in a calendar year. Things on the Pakistani side, however, were very different just a few days before the high-profile semi-final match in Dubai against the famous Australians. Against all odds, he made a stunning comeback to complete a 360 and score magnificently in the match.

According to Dr. Najeebullah Soomro – team doctor of Pakistan's squad, Rizwan got a serious chest infection and spent two nights in the ICU before the T20 WC 2021 semi-final.

Following Pakistan's five-wicket semi-final loss to Australia, Dr. Soomro revealed that Rizwan had been sick prior to the game but had shown amazing courage in going out and playing.

Dr. Soomro said in a post-match interview that Rizwan recovered quickly, and was cleared to play before the big game. He added that Rizwan recovered quickly, and was cleared to play before the match. He was very impressed to see his great performance on the field that day.

According to a few press reports that circulated on Wednesday, Rizwan and Shoaib Malik missed Pakistan's practice session ahead of the semi-final due to moderate sickness. Nonetheless, both players were later cleared to play in the semi-final against Australia. According to Dr. Soomro, the team management made a firm decision not to make the specifics of Rizwan's sickness known as it will affect Rizwan's health as well as the momentum of the team.

Captain Babar Azam commented on Rizwan's willingness to compete despite not feeling well prior to the big match, and lauded his opening partner, with whom he has crushed various bowling attacks in this year's T20 World Cup, for his determination. The skipper praised Rizwan that those were unbelievable innings from him that day given that he just recovered hours before the game. He added that he was unsure about Rizwan's capability after he fell ill, but Rizwan made up his mind to participate regardless and as a captain, he is very impressed with his performance.