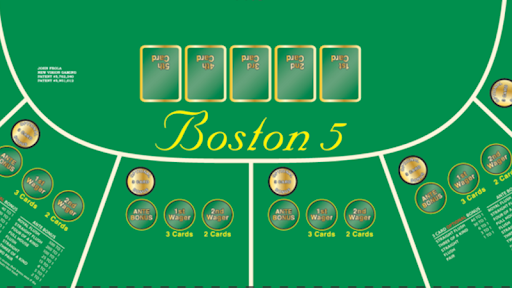 Boston 5 Analysis
Boston 5 Analysis
The strategy is straightforward: increase everything. Raising is always a better decision than folding, even with the poorest three-card hand. If the flush pays 3 to 1, I recommend skipping the 3-card bonus bet. If the flush pays 4 to 1, it's okay.
The house has an edge because the player increases the ante if he wins but loses it if the dealer wins. Because the ante is 20% of the total bet, this regulation pays the dealer an extra 10%. (because the player wins half the time). On the other hand, the Ante Bonus gives the gambler 6.68% at table 2-A and 6.52% at table 2-B. So in Boston 5, the house edge is 3.32% for paytable 2-A and 3.48% for paytable 2-B. This is the proportion of a player's predicted loss to the total amount wagered. The house edge is usually calculated as the ratio of the loss to the initial wager. However, because the player should be raising all of the time, I thought it reasonable to compare the loss to the overall wager.
The paytable determines the house edge on the 3-card bonus bet. The house edge under table 1-A is 2.32%. The house edge on table 1-B is 7.28%. It's important to note that this is the same as the Pair plus bet in Three Card Poker.
3 Card Bonus Bet
Table 1-A
HAND
PAYS
Straight flush
40:1
Three of a kind
30:1
Straight
6:1
Flush
4:1
Pair
1:1
Table 1-B
HAND
PAYS
Straight flush
40:1
Three of a kind
30:1
Straight
6:1
Flush
3:1
Pair
1:1
Ante Bonus
Table 2-A
HAND
PAYS
Royal flush
1000 x Ante
Straight flush
200 x Ante
Four of a kind
100 x Ante
Full house
25 x Ante
Flush
15 x Ante
Straight
10 x Ante
Three of a kind
5 x Ante
Two pair
2 x Ante
Table 2-B
Hand
Pays
Royal flush
1000 x Ante
Straight flush
200 x Ante
Four of a kind
100 x Ante
Full house
25 x Ante
Flush
15 x Ante
Straight
8 x Ante
Three of a kind
5 x Ante
Two pair
2 x Ante