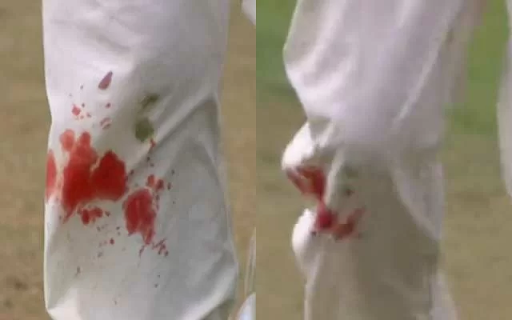 James Anderson continue playing despite bleeding during the Test between England and India
James Anderson continue playing despite bleeding during the Test between England and India
In the current Test series against India, James Anderson has been outstanding. He's 39 years old, but he's still bowling like a pro, keeping the opposition batters on their toes. He gives it his best, especially with the new ball, and is prone to running through the top-order, as he was at Headingley. India was bowled out for 78 runs after failing to recover from the early blows.

James Anderson's dedication has made him Joe Root's go-to bowler. On Thursday, another incident occurred at The Oval during the ongoing fourth Test. Anderson was on his third spell of the day, and Root had utilized him sparingly in the previous spells.

During the 42nd over, the cameras noticed blood on the veteran pacer's pants. James Anderson had hurt himself, most likely while fielding, but his devotion to the team was that he continued to bowl and didn't go off.

Meanwhile, Team India has struggled with the bat, with the fast-moving Dukes ball proving to be a nemesis once more. After a magnificent ton at Lord's, KL Rahul recorded his fourth low score, while Rohit Sharma had his first failure. Ajinkya Rahane and Cheteshwar Pujara's problems continued as they were nicked off behind the stumps to the wicketkeeper and slip cordon outside the off-stump.

With a great set-up, James Anderson was the one who nipped out India's number three. Virat Kohli looked fantastic as he slammed some beautiful cover drives to cement his dominance and added another half-century to his tally. He did, however, get a peach of a delivery from Ollie Robinson and was unable to score more than 50 runs.

With Ishant Sharma and Mohammed Shami (and Ashwin) out of the lineup, India will rely on Jasprit Bumrah to lead the attack. The conditions will only improve for batting, but first, India's lower-order, led by Rishabh Pant, will have to deal with James Anderson and his team, who have been unrelenting.