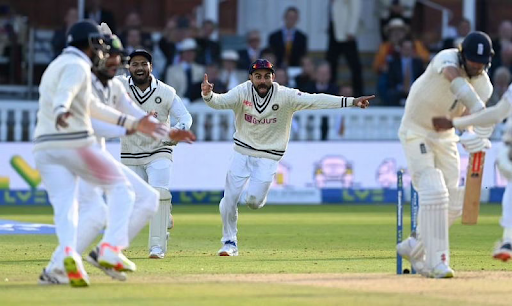 India thump England by 151 runs at Lord
India thump England by 151 runs at Lord
An enthralling Test match between India and England culminated with a stunning Indian victory at Lord's on Monday. The game came down to the wire, but England was bowled out for 120 runs when the visitors claimed the critical wickets late in the day. Mohammed Siraj was the show's star, with figures of 4-32.

India's triumph elicited ecstatic reactions on Twitter. They also praised the visitors for putting England under a great deal of stress.

Only India's pacers remained at the start of Day 5, so how Rishabh Pant batted with the tail mattered a lot. However, the southpaw left early, and India appeared to be a foregone conclusion.

With Mohammed Shami and Jasprit Bumrah at the crease, it appeared as though the visitors would throw everything they had at them and take whatever they could.

But what happened next was incredible, as Shami and Bumrah batted wonderfully and shared an unbeaten 89-run partnership for the ninth wicket. With 60 overs to bowl, India set a target of 271 for England, with Mohammed Shami scoring his second half-century in Test cricket.

Both England openers retired to the pavilion without bothering the scorers, giving the visitors a perfect start. The hosts put up tiny partnerships, but India continued to chip away at them, taking wickets at regular intervals.

With Joe Root's wicket, England appeared to be on the verge of collapsing and handing India an easy victory. However, there was considerable pushback from Moeen Ali and Jos Buttler at first. Even when the Test's final hour began, two outcomes were imaginable.

Buttler appeared to be leading England to a draw, but Mohammed Siraj bowled him out and then took the last wicket in the same over to seal the victory. India has taken a 1-0 lead in the series. The next Test will be held on August 25th in Leeds.