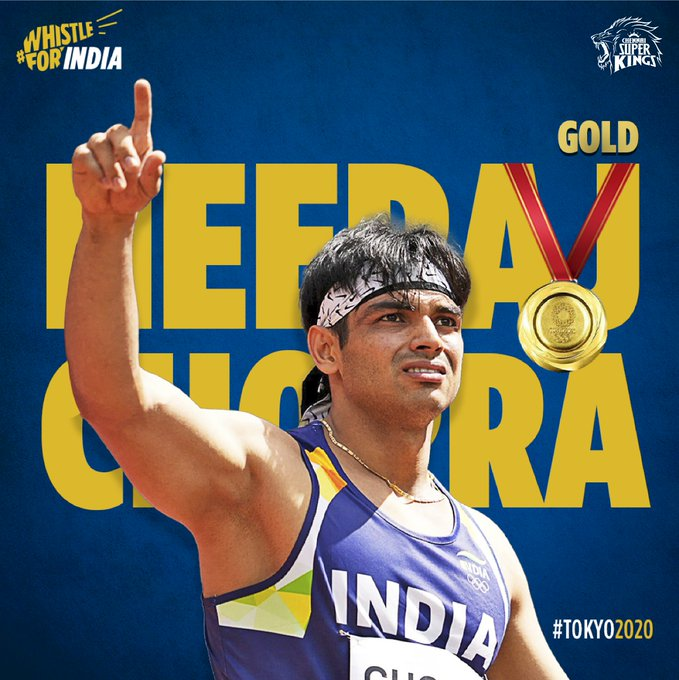 IPL franchise Chennai Super Kings give 1 Crore reward to Olympic gold medalist Neeraj Chopra
IPL franchise Chennai Super Kings give 1 Crore reward to Olympic gold medalist Neeraj Chopra
The Chennai Super Kings (CSK), a well-known IPL franchise, has announced a one-crore award for Olympic gold medallist Neeraj Chopra. Neeraj Chopra made history earlier this evening by becoming the first Indian athlete to win a gold medal at the Olympics in the Javelin Throw.

He has garnered unrivalled admiration from Indians on social media platforms after his historic victory. CSK, a popular IPL franchise, joined the millions of Indians in praising the 23-year-old. They also decided to give him a monetary price in recognition of his extraordinary achievement.

CSK also announced that they would produce a special custom CSK jersey with the number 8758 as a token of respect for Neeraj Chopra's victory, in addition to the one crore prizes. It's because Neeraj Chopra's final score of 87.58 was vital in his eventual victory.

On September 19, Chennai Super Kings will face Mumbai Indians in the first match of the IPL's second phase at the Dubai International Stadium. CSK is now in second place in the points table, behind Delhi Capitals.

The MS Dhoni-led team will look to build on their recent success in the tournament's second leg and win their fourth IPL title.