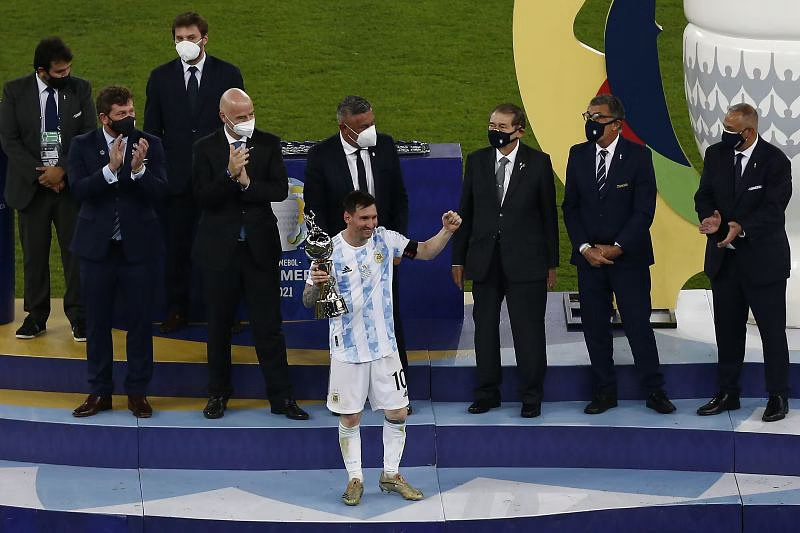 Lionel Messi beats Neymar to win Copa America 2021 Golden Boot
Lionel Messi beats Neymar to win Copa America 2021 Golden Boot
Lionel Messi, Argentina's icon, has defeated Neymar to earn the Copa America Golden Boot title for 2021. Argentina won the tournament final 1-0 against Brazil in the Maracana, with Messi scoring four goals.

In the final, Lionel Messi wasn't at his best. Still, his teammates put on a defensive masterpiece to keep Neymar and his teammates at bay and give their captain a well-deserved first international trophy with the senior side.

Lionel Messi and Neymar entered the 2021 Copa America final with four and two goals, respectively. Both players failed to score on the night, but it was enough for Messi to finish as the tournament's top scorer.

Luis Diaz of Colombia also scored four goals in the competition, but Messi was voted the Golden Boot winner because he had more assists. Gianluca Lapadula of Peru and Lautaro Martinez of Argentina both scored three goals.

With five assists, Lionel Messi leads the competition in assists. He even set a new Copa America record for the most assists in a single tournament.

Angel di Maria's goal in the Copa America final in the 22nd minute was enough to win the game.

Rodrigo De Paul's delectable through ball found Di Maria on the right flank, and the PSG star dunked the ball over an onrushing Ederson to put the game out of reach.

Brazil came close to tying the game several times, but Argentina's defence held firm, and they won 1-0 to capture their first Copa America title since 1993.

While Lionel Messi won his first international trophy with Argentina, Neymar is yet to do so with Brazil. The 29-year-old was not a member of the Brazil team that won the Copa America in 2019.