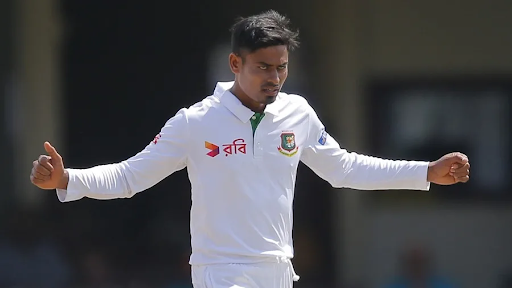 Throwing the ball, Taijul is in trouble
Throwing the ball, Taijul is in trouble
9 June 2022  Authorbaji99
The Sri Lankan cricket team is in Bangladesh to play a two-match Test series under the World Test Championship. The visitors drew the first Test against Bangladesh in Chattogram. The two teams are playing in the second and deciding Test of the series at the Sher-e-Bangla National Cricket Stadium in Mirpur, Dhaka. On the third day of the Dhaka Test, Bangladesh national team left-arm spinner Taijul Islam had to face a fine.

He was fined 25 per cent of his match fee for violating the ICC Code of Conduct (Level-1) in the ongoing second Test against Sri Lanka. He was also given a demerit point, which will remain for the next 24 months. If Taizul gets 4 more demerit points at this time, he may be banned. The ICC, the governing body of world cricket, announced in an email on Wednesday night (May 25) that Taizul had been fined.

It is to be noted that in the 69th over of the match, captain Mominul Haque brought Taijul to bowl. Angelo Mathews was batting at the crease against Taijul. At the end of the fourth ball of that over, Taijul threw the ball to Mathews. However, Matthews was inside the popping crease and did not attempt to score. Taijul immediately raised his hand and apologised. However, the umpires were not satisfied with it, and they reported the matter to the match referee.

At the end of the match, the match referee summoned Taizul for questioning. There, he pleaded guilty and accepted the fine and demerit points without the need for a formal hearing. The minimum punishment for this crime committed by Taijul is to be formally reprimanded, and the maximum penalty is 50 per cent of the match fee and 2 demerit points.