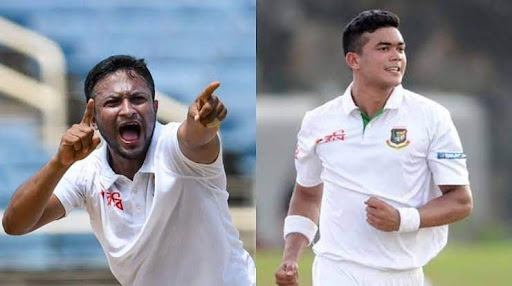 Shakib will bowl in Dhaka Test, Taskin also returned
Shakib will bowl in Dhaka Test, Taskin also returned
17 February 2023  Authorbaji99
Ever since the Chittagong Test, the bad news about Shakib Al Hasan has been on hold. The Bangladesh captain was not seen bowling after the first day there. It is known that Shakib is feeling pain in his ankle and shoulder. That is why there is concern about getting Shakib's bowling service in the Dhaka Test. However, Shakib has not seen bowling in the practice session before the Test.

But on the day before the match, the pace bowling coach of the Tigers, Allan Donald, blew away all the clouds of fear and gave a message of hope. Regarding Shakib's bowling, he said, "There was a bit of worry about Shakib but he is fit now. He has recovered, hopefully, he will bowl in the Dhaka Test as well. However, he had a bit of an injury in the ODI series. That is not the case now. Hopefully, he will be fully fit for the Dhaka Test." Shakib is the one we are going to get. He will perform for sure. He will also bowl as well as bat."

However, after the Chittagong Test, there were fears that Shakib would not be able to bowl, so Nasum Ahmed was called into the squad. This specialist off-spinner was also thinking of playing in the Dhaka Test. But with Shakib recovering at the last moment, Nasum's debut may not happen. In that case, there is not much chance of change in the XI. However, Taskin Ahmed has the possibility of playing in this match.

Donald also said in the press conference, "The great thing for Bangladesh is that Taskin is fit now. His fitness is better than before, he is ready to take the field in the Dhaka Test. There are some worries about his pace and rhythm. The rhythm has not returned properly since he was out of the match. But he is working hard, and has prepared well for the last two weeks. Hopefully, it will work in the match. He has practised very well even before the Dhaka Test. Taskin is very serious in practice. The practice shows how much he has prepared himself for the fight on the field. Now it's important to perform on the field."

Meanwhile, Taskin missed the first two matches of the ODI series due to injury. However, he returned for the third ODI. He bowled very well in that match. Looking at his body language on the field, he did not seem fully fit. The team management did not dare to play him in the Chittagong Test. Finally, welcome, this star pacer is going to return to the field with the Dhaka Test.

India has already won the first Test in Chittagong and is ahead in the Test series. However, Bangladesh wants to turn around in the Dhaka Test. Due to Rohit Sharma's injury, Lokesh Rahul will lead India in the Dhaka Test as well. On the other hand, the Tiger camp hopes to level the series.