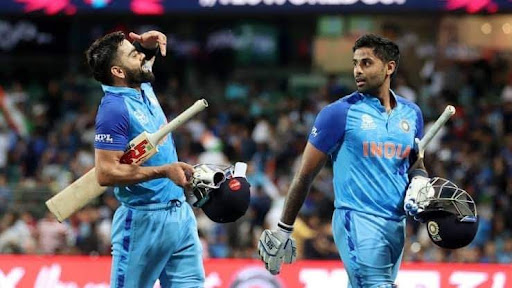 Kohli called Suryakumar's batting a 'video game'
Kohli called Suryakumar's batting a 'video game'
18 February 2023  Authorbaji99
India has always been a factory for batsmen. The country's cricket has been moving forward depending on the batting power for ages. From Sachin Tendulkar to the current Virat Kohli, everyone is one of the best batsmen in the world. Another Indian, Suryakumar Yadav, became the world's best this year. He made his name especially in white ball cricket. There is also excellent consistency in running. Even Kohli himself praised Suryakumar's batting.

Suryakumar's batting on a twenty-two yard canvas is like a picture painted by the perfect hand of an artist. This Indian batsman is skilled in driving the bat like a whip around the wicket. '360', the degree batsman, has already gained fame. Former South African legend AB de Villiers was called by that name. However, there are many similarities between the two. Both like to score runs by batting at market.

Suryakumar's spectacular batting fans are numerous all over the world. Kohli himself is impressed with his batting. On the non-strike side, Suryakumar's batting looks like a video game to Kohli. He even told his teammate once. Suryakumar said in an interview that Kohli was surprised by batting. The Indian batsman also told what happened between the two.

Talking about the experience of teaming up with the team's senior cricketer and praising Kohli, Suryakumar said, "Once I was batting with Kohli. Within 22 yards he suddenly came towards me. He said to me, are you batting or playing video games? Your style of play is different. What? You are playing well. I am ashamed to hear him say that. Such a big batsman said that to me. But his words are an inspiration to me".

Meanwhile, despite getting a great cricketer like Suryakumar this year, India has not seen success as a team. In 2022, despite playing in two major events, they were completely defeated. Losing to Sri Lanka in the Asia Cup and going to the semi-finals in the T20 World Cup is also a dream come true. But the Indians did not think of anything as an alternative to becoming champions. As such, they have not had a year to remember at all. But Suryakumar feels that India will bounce back quickly after the setback.

Meanwhile, Suryakumar Yadav is also eyeing to do well in Tests. He is preparing himself for the Test as per Rahul Dravid's advice The 360-degree batsman is hopeful of doing well here as well. But time will tell how successful it will be.